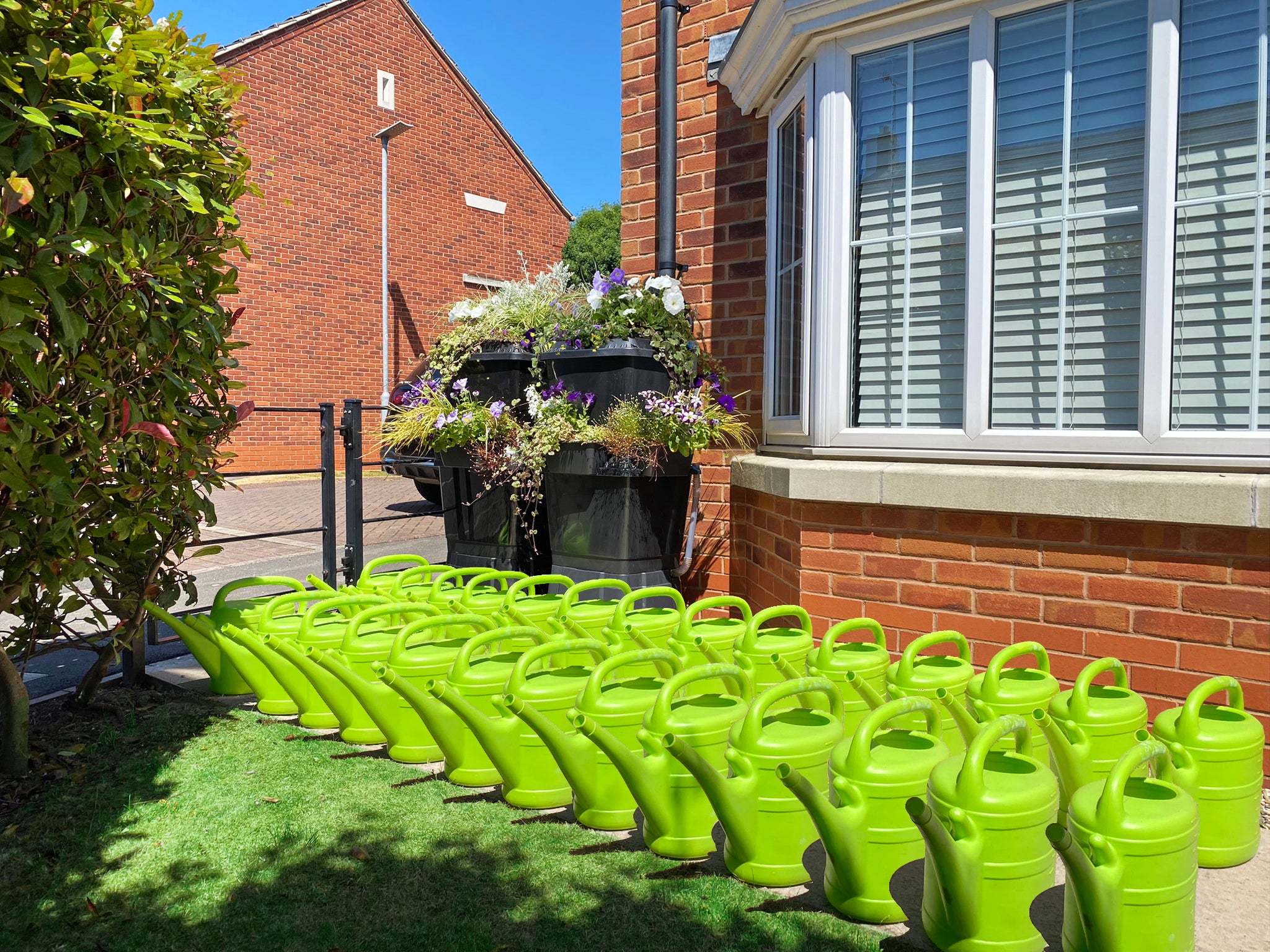 It's important, now more than ever, to save household water usage and it's no secret that rainwater is far superior to the tap water alternative when it comes to growing healthy plants. However what do you do when the notoriously inconsistent British weather doesn't produce the goods? Fortunately our water butt is the perfect rainwater storage solution for maintaining healthy plants, whilst also saving you a few pennies on the water bills!
A water butt is no new invention, they provide an important solution to garden water storage and can help keep our rivers safe from the runoff pollution caused by excess rainwater flooding drains, however their sometimes ugly appearance can be detrimental to your dream garden aesthetic. Easily customisable with a modular system and planting beds, our water butt can suit any outdoor space to collect rainwater whilst also tackling traditional water butt issues such as appearance, stagnant water and painfully slow tap water flow. 
Rainwater Terrace water butts come in a range of sizes starting at 67 litres with a range of coloured self watering side planters including black, bright green, dark green and duck egg blue. The modular construction means you can link terraces to increase your storage capacity.
We pride ourselves on being as user friendly and environmentally focused as possible, simple to install with no special tools required, modular parts can easily be replaced and all the parts recyclable. 
Based in the heart of Yorkshire and distributing UK wide we provide the best possible customer experience with quick to help with all enquiries that we receive. Our small friendly team all have extensive knowledge on our range of water butts and accessories. Contact us today on 01937 845176 or email our friendly team at rainwater-terrace@design4plastics.com and we will get back to you as soon as possible.
How is our Rainwater Terrace Water Butt Eco Friendly?
A water butt stores rainwater, which is un-chlorinated, unlike tap water, so is better for plants.
Water butts help to protect rivers and streams from run off pollution by capturing some of the rainwater before it reaches the drains.
Using rainwater collected in a water butt on your garden is free as you are not paying for the mains water to do this.
Rainwater Terrace is a modular water butt so, if parts get damaged or wear out, single parts can be replaced rather than replacing the whole water butt.
All parts of the Rainwater Terrace water butt can be recycled.
Rainwater Terrace black top and side planters are made from recycled plastic.
Rainwater Terrace water butts can be planted with flowers and plants that capture CO2 and are great for helping local wildlife such as bees, which are on the decline.
Encourages kids to be interested in growing things.
Rainwater Terrace fits into a small box, reducing transport costs.
Our Awards